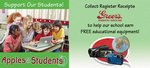 Apples for the Students
FES is participating in Apples for the Students program sponsored by Greer's Market in Jay, FL. All you have to do to help is save your register receipt and turn it in to the school. We can count your total towards free educational equipment for our school.
Thanks for supporting Flomaton Elementary!